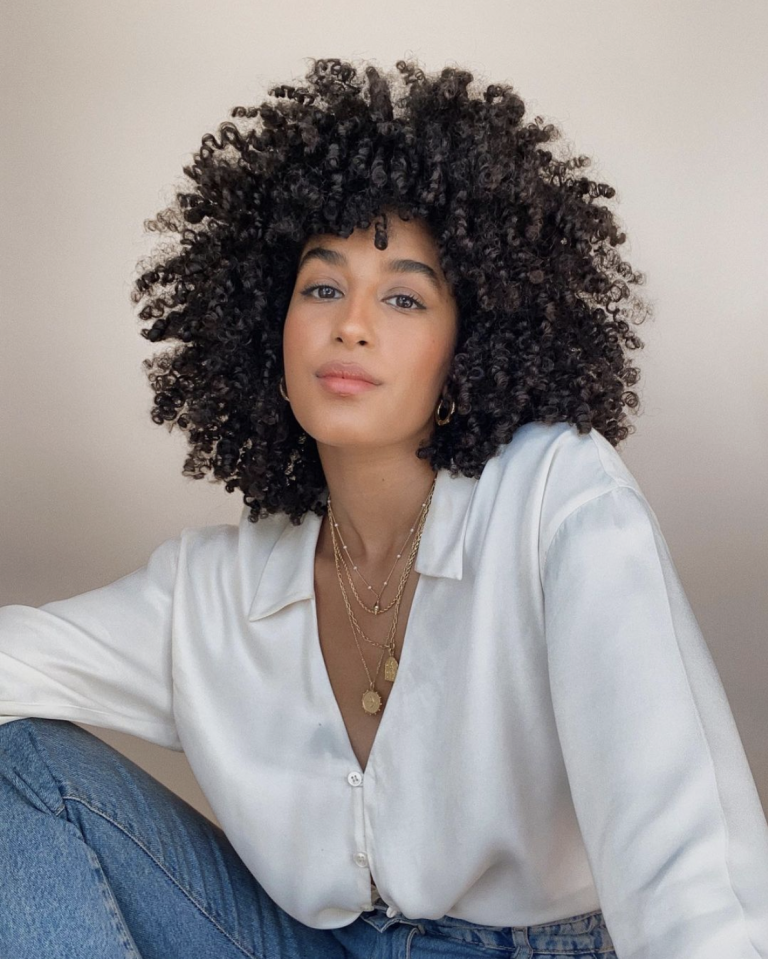 Scroll through Leal Alexander (@curlygallal) Instagram feed and immediately meet an individual who takes beauty seriously. From nourishing the health and condition of her curls to implementing gentle but effective routines that target her primary skin concerns, Leal is a natural beauty. In this interview feature, Leal shares her fondest beauty memories, her skincare lessons as she has gotten older, and the beauty of not always covering up. 
As part of our SKINDAYS' CLUB, REALSKIN unveils the raw and honest truth behind beauty & wellness. Home to an expansive interview series that speaks with leading beauty experts and skin connoisseurs within beauty, it will host and share honest, (sometimes) untold yet beautiful narratives surrounding their beauty & wellness journeys. It is SKINDAYS re-imagined, pure & uniquely captured.
SKINDAYS: When it comes to your skin, what type of products do you typically reach for?
Leal Alexander: I most often always prefer science-led products because of their research and efficacy. As I have a combination of sensitive-normal skin types, my skin works better with these types of products. However, I'm open to trying anything.
SD: How did you first get into beauty?
LA: I've always been drawn to beauty in a makeup sense ever since I was a child. I remember sitting on the bathtub and watching my sister get ready to go out, and that ritual was so relaxing and inspiring to me. I grew up experimenting with my beauty/fashion sense of style. However, it wasn't until my early 20's that I started to get into skincare and understood what it was. Before then, I probably removed my makeup with wipes and thought SPF was only necessary during the summer months!
SD: From those earlier days then, how have you adapted new habits towards your skin?
LA: In recent years, I've learned more about what my skin needs, and instead, I've been more intentional about taking care of it, and because of that, I've seen considerable growth in my skin. I also used to think that sunscreen is only necessary if you're out in the direct sun during the summer months. Now I make a conscious effort to wear SPF daily all year round, especially if I plan to leave the house.
I've also learned that taking care of your skin and body is not just about how it makes you look but how it makes you feel on the inside.
SD: Could you share your current skincare routine?
LA: Well, I typically double cleanse; if I'm removing makeup, then an oil first. I would then follow this up with a  mist (I love a mist), toner, eye cream, serum (to either hydrate or treat), and then apply SPF (daytime) or moisturiser (at night).
SD: Are there any holy-grail steps that you never skip?
LA: For me, it has to be cleansing. Face cleansing is the first and most crucial step in my skincare routine, and I find the process so relaxing. I love to do a double cleanse – I'll usually go in with an oil or balm to remove my makeup and follow up with a gel or cream cleanser to make sure my skin is clean! I think I'm trying to make up for the countless nights of slept-in makeup after late nights out in my teens!
LEAL SKINCARE ROUTINE STEPS
SD: With your routine, what is your goal with your skincare?LA: I love products that make my skin feel plump and healthy and even out my skin tone. I will admit that I always have new products in my rotation and rarely stick to one thing – it's a beauty luxury.
SD: Do you have any concerns that you try to typically target?
LA: I think I'm pretty lucky that my skin concerns are generally just around dryness, sensitivity and hyperpigmentation. Those are probably the things I try to target most, especially unevenness around my jaw/mouth area. Since finding the right products for my skin, I've seen a vast improvement, but I'm always learning new things and switching out my routine accordingly!
SD: In your trialling of new products and ingredients, are there any skincare ingredients that you swear by?
LA: I tend to gravitate towards ingredients that help with uneven texture or hyperpigmentation, so vitamin C, retinol, kojic acid. I also love ceramides, and acids like hyaluronic, lactic and glycolic, which give my skin that hydrated, healthy glow from within.
SD: Finally, when would you say you feel the most confidence?
LA: It can be in the little things like spraying my favourite fragrance, taking my time to do my hair and skincare rituals are such simple steps that make the most significant difference to my day. From both a beauty point of view and a wellness one, there's something about staying on top of my beauty routine that starts my day on a positive note and makes me feel like I can tackle the day ahead.
I also love not feeling the need to wear makeup at all times; even though I enjoy playing with makeup, I prefer not feeling like I need to cover up like I used to. I love seeing my natural skin texture through my makeup, so I often skip foundation and am a big fan of the 'no makeup, makeup' approach, which is having a huge moment right now. Most days, I'll just wear a tiny amount of concealer and some cream blush on my lips and cheeks.