Our mission here at SKINDAYS is simple—to make shopping for skincare uniquely personal and a genuine joy. And to make that possible, we rely on working with the best brands in the industry to offer a curated edit of products that truly work. Whether it's vegan cleansing balms, science-backed serums or trending tools, we only stock skincare from brands that provide efficacious solutions for your unique skincare journey. But what about the people behind the brands? Introducing Stripped Back: A new series that aims to share the story behind the brands that you love and a chance to hear directly from the founders themselves. So sit back, relax, and let us introduce you to our brands…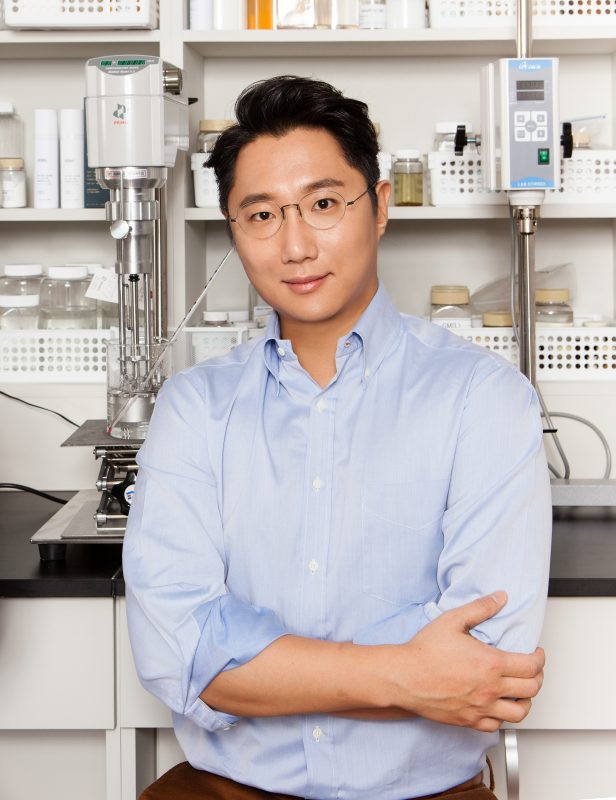 Skindays: You didn't start out in the skincare field; how did you get your start and what drove you to launch Venn?
Brian Oh: I was a corporate lawyer in NYC and Silicon Valley before starting VENN. I've always invested in skincare products with serious science and technology. But the issue for me was, given my long and hectic working hours, I never actually had the time to use multiple products, let alone even understand each product and figure out which routines and products to apply. Often, even applying 2 or 3 different products was overwhelming so I'd just end of using a moisturiser. What I needed was a skincare routine that was not only very effective, but also very simple, convenient and streamlined. I couldn't find a single brand that focused on doing just that – offering a streamlined skincare solution that didn't involve compromising on the efficacy.
Then I met my co-founder, a nuclear physicist who became a skincare chemist and has been researching and developing skincare ingredients, formulations and technologies for over 25 years. We talked about his research on Compound K and solubilization and delivery technologies.
SD: What does the name stand for? 
BO: The brand name, VENN, comes from Venn diagram in geometry—the overlapping concentration of different elements. It reflects the brand's intersection of science, nature and lifestyle, which are the three key pillars that form the brand's DNA. So, consistent with our brand name, the logo for VENN layers the "V" and the "N," forming a Venn diagram that visually echoes the name and coveys the integrative qualities of the brand.
SD: Most K-Beauty brands advocate for a 10 or even 12-step routine, what inspired you to opt for a streamlined skincare routine and champion the ALL-IN-ONE concept?
BO: Although South Korea is at the forefront of skincare technology and innovation, K Beauty in the western countries has been misunderstood and defined largely by facial sheet masks and fun, trendy products that propelled the global K Beauty phenomenon. But just like electronics, cosmetics in Korea has experienced rapid advancements in technology and innovation with global competitiveness, with cosmetics now being Korea's key industry along with electronics and the market size being 8th largest in the world. So, I wanted to create a brand that shows the world the 'other side' of K Beauty—the serious skincare technology and innovations in South Korea.
SD: What makes Venn products and formulations so unique?
BO: Our groundbreaking technologies, including the exclusive patent of Concentric Technology ™, which is comprised of our patented Solubilization Technology ™, Delivery Technology ™, and Hydration Technology ™ that work in synergy to optimiSe and effectively deliver super-charged key actives to the skin to deeply hydrate and visibly target multiple skin concerns.
For example, our Solubilization Technology ™ takes actives with very low water-solubility and permeability e.g. Ginsenoside Compound K derived from Panax Ginseng and Mastic Gum and makes it possible to water-dissolve and use them in powerful concentrations in our formulations such as our All-In-One-Concentrates.
Microbiome Balance System™ Our latest research has now become focused on the skin microbiome – specifically, probiotics and prebiotic that when topically applied help balance the skin microbiome for visibly healthier, stronger, more resilient skin. Many of our products have been awarded microbiome-friendly certification by MyMicrobiome AG
Scientifically validated formulations, we use clean, clinically-proven actives in supercharged concentrations, as guided by research studies, in-vitro and in-vivo clinical tests and technical data, and our internal research and analyses. All our formulations and proprietary ingredients are internally developed at our R&D centre.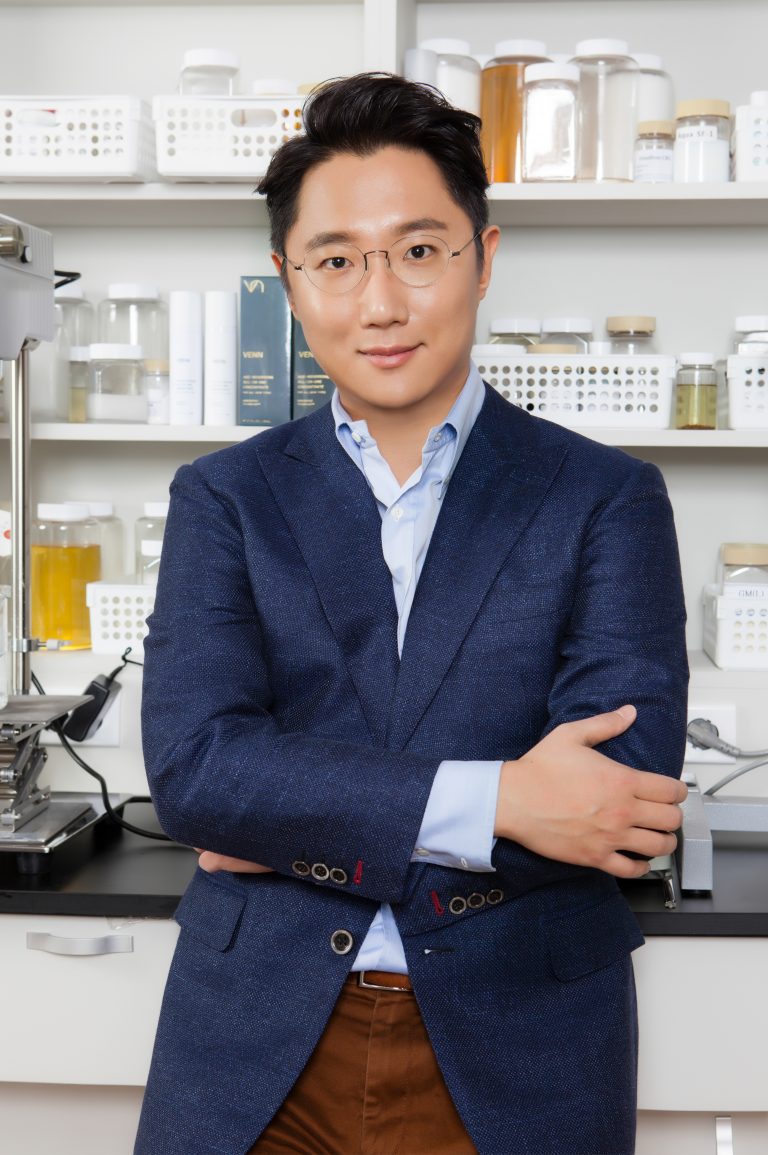 SD: Why did you decide to work with chemists in South Korea rather than chemists from New York, the city where you live in?
BO: South Korea is at the forefront of skincare technology and innovation, which also has driven the global K-Beauty phenomenon. So, given my Korean cultural background, if I created a skincare brand, I wanted it to be based on and driven by the skincare technology and innovation from South Korea. Also, despite the long history of skincare advancements in South Korea, it seemed that outside Korea, and especially in the U.S I wanted to introduce the "other side" of K-Beauty, by creating a brand backed by science and technology in South Korea, that would compete with other global brands in the premium, luxury space.
In Silicon Valley, through my work with life science start-ups, I was introduced to my co-founder, who is one of the leading skincare chemists in South Korea and now VENN's Chief Scientific Offer. 
He's been researching and developing for over 20 years skincare technology, ingredients and formulations. He shared the same vision of creating a brand that focused on offering non-compromise, streamlined skincare solutions. So, we each left what we were doing and co-founded this brand.
SD: What have you learned about K-Beauty that you didn't know before?
BO: I think K-Beauty has been largely defined and recognized outside South Korea by facial sheet masks and more affordable, trending products, which actually form only a subset category of skincare in South Korea. K-Beauty is also at the forefront of skincare science, innovation and technology, and VENN is a good example of this.
I think one lesson that American beauty brands could take from K-Beauty brands is the constant strive by K-Beauty brands to explore the unknown and sometimes even take risks to introduce something new and never seen in the market. Of course, all of this is backed by, and made possible, by the long history of skincare science and innovation in South Korea.
SD: Can you tell us a bit more about the core ingredients you work with?
BO: Panax ginseng, used in traditional Eastern medicine for over 2,000 years, is also called "green gold" or "the king of the herbs" because it is only found naturally in a few places in the world (including Korea) and provides very potent restorative and rejuvenating benefits. It also helps reduce cholesterol and blood sugar levels, provides energy and endurance, and helps lower stress and boost mental well-being. In skin care, this herbal root helps restore the skin's moisture balance and fight signs of aging and hyperpigmentation.
VENN takes the use of Panax ginseng in skin care a significant step further by effectively solubilizing and using Compound K, a key anti-aging bioactive component of Panax ginseng, found in the formulations of Age-Reversing All-In-One Concentrate, Compound K Hyaluronic Booster, Concentrated Revitalizing Lifting Mask  
Gromwell and Korean Angelica Root Extracts, key oil extracts, inspired by Jaungo, a 400-year-old prescriptive remedy with strong anti-inflammatory and skin-repairing properties. They are fermented for 150 hours at a low temperature to create our cult product Advanced Multi-Perfecting Red Oil Serum. This fermentation process breaks down the particle sizes of these key oil extracts so that the formulation can more easily penetrate through the skin layers. It also causes the key oil actives to adopt hydrophilic characteristics so that they can pull hydrophobic oil actives through the hydrophilic skin layers.
Mastic Gum – (Pistacia lentiscus) is a plant resin obtained from mastic trees that only grow on the Greek island of Chios. The resin is very rich in antioxidants and anti-inflammatory compounds and skin benefits include fighting the signs of photo-ageing, improving skin clarity and radiance, reducing the oil oxidation to restore sebum balance and refine appearance of pores.
Composed of high molecular weight organic compounds and with less than 0.01% solubility in water, mastic gum, until now has been insoluble in water. By applying VENN's patented solubulization technology*, mastic gum is one of the key active ingredients in VENN's hero problem-solving product, Vitamin B Activated All-In-One Concentrate. 
Other super-charged key and signature ingredients in VENN's range.
Probiotics and Prebiotics – (Bacillus Ferment, Lactobacillus Ferment, Galactomyces Ferment Filtrate,Saccharomyces Ferment and Beta-Glucan) make up 37.5% of the formulation to balance the skin microbiome 
*Six different key actives from Centella Asiatica (Cica) (Madecassoside, Asiaticoside, Madecassic Acid, Asiatic Acid, Centella Asiatica Leaf Extract and Centella Asiatica Extract) to soothe and renew irritated, damaged skin
Niacinamide – Brightening, anti-wrinkle, pore minimizing, strengthens skin barrier, evens skin tone
Acmella Oleracea Extract – features analgesic alkylamides called splinthol that mimic Botox treatment by relaxing the facial muscles, lessening muscle tension to reduce the appearance of lines and wrinkles 
Polyamine – is a natural compound proven to reduce skin sagging and wrinkles, minimize pores, improve dermal density and elasticity and promote collagen synthesis and hyaluronic acid production.
Camellia Sinensis (Green Tea) – controls and restores sebum balance, anti-inflammatory, soothing and brightening
SD: What do you think is the future of skincare?
BO: When observing outside skincare, most technological innovations and advancements have been focused on make lives more convenient, efficient and simplified. Smartphones and Uber are very good examples of this desire for convenient and efficient lifestyle. I think skincare is no different, as long as brands are able to offer streamlined and simplified skincare solutions that don't require compromising on the quality and benefits. 
I think VENN is leading the future by combining science with technology and natural pure ingredients to create super-charged – at molecular level – efficient and results driven skincare formulations.
SD: Best skincare advice you have ever received?
BO: I think to make sure that all the good ingredients you apply to your skin will actually be absorbed and deliver benefits – this inspired me to find a way to create a supercharge delivery system and products penetrated deep into the layer of the skin.  Also, not to use too many ingredients, as they may increase the risk of different actives clashing with each other and block the penetration of each other or cancel out the benefits.
SD: What are you currently working on?
BO: We have a new Body Cream launching in June – Probiotic-Tensive Hydro Firming Body Cream, formulated to hydrate, improve elasticity, firmness and lift and tighten sagging skin make it soft and smooth. Using our Microbiome Balance System™ a proprietary combination of probiotic and prebiotic in supercharged concentrations that respect and nourish the skin's natural protective barrier and balance the scalp microbiome. 
Follow that we have a collagen exfoliating mask that will be incorporated into our facial protocol 
Collagen Intensive Phyto-Retinol Resurfacing Mask enhances skin's radiance and improves its overall appearance by liberating the surface of dead, dull and damaged cells.
SD: Best kept skincare secret?
BO: I think our Advanced Multi-Perfecting Red Oil Serum it's a multi-correctional face oil is inspired by Korea's traditional first aid herbal ointment, "Jaungo"— a 400-year-old prescriptive remedy with strong anti-inflammatory and skin-repairing properties. The key ingredients are fermented for 150 hours at a low temperature and make up the' engine' of the Red Oil Serum that drives its clinically proven skin benefits, including dramatically improving skin's elasticity and firmness and promoting collagen production. It's not a typical face oil it suits every skin type, even blemished or oily, our customers rave about the results – they swear by this to keep skin radiant.