INTRODUCING
Leila x Skindays
Summer Edit 
Curated edit of six summer must haves for a glowy and healthy skin by Leila Kashanipour. 
Leila x Skindays Summer Edit
Achieve your summer glow with Leila Kashanipour's skincare favourites. Coming in an exclusive SKINDAYS pouch bag, this curated collection includes
3 of her regulars and 3 she has recently discovered through Skindays and added to
her routine. Leila has handpicked all products after the trial.
Leila x Skindays Top 3 Go-To
Discover and buy Leila's top 3 regulars; from celebrity loved Goldfaden scrub to Sarah Chapman Invisible SPF 50 and Voatry plant-based cream.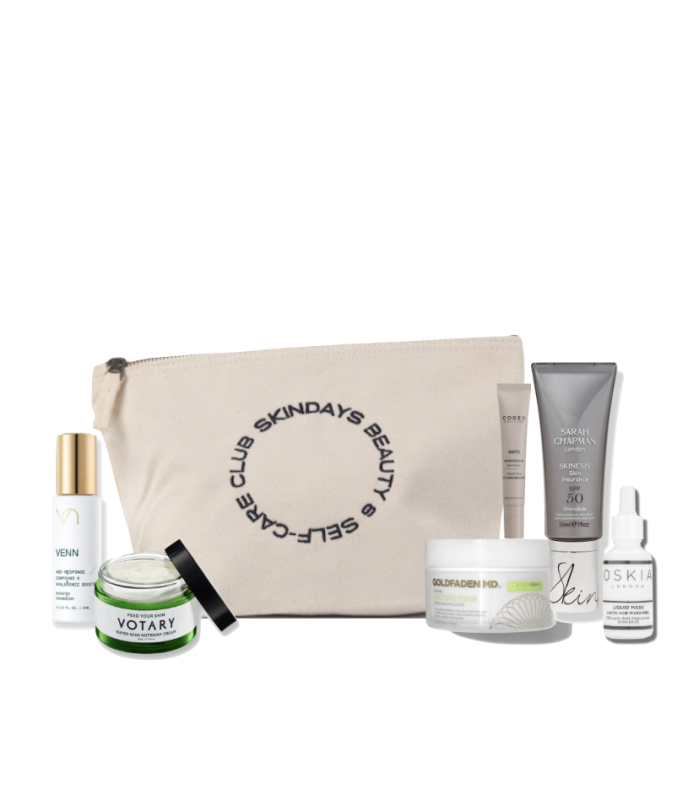 Leila x Skindays Summer Edit – 6 products
The curated edit includes everything you need to reveal healthy, hydrated and smooth skin this summer. From a hydrating booster to a liquid mask. 
Discover Her Selection
1. Goldfaden MD Doctor's Scrub – Ruby Crystal Microderm Exfoliator
It's doctor's orders! Goldenfaden DOCTOR'S SCRUB Ruby Crystal Microderm Exfoliator lets you achieve the results of microdermabrasion at home.
Using hydrating hyaluronic acid and jojoba oil with purifying seaweed extract and ruby crystals, DOCTOR'S SCRUB nourishes while it exfoliates so your skin is left soft and supple afterwards! It's no surprise that consumer trials found 95% of people felt their skin was smoother after use.
£ 65.00Add to basket
2. VENN Age-Response Compound K Hyaluronic Booster
Anti-aging boosting serum supercharged with 2,700 ppm of VENN's patented form of Ginsenoside Compound K, a key anti-aging active in Panax ginseng with free-radical-fighting antioxidant power as strong as L-Ascorbic Acid (Vitamin C) but without stability and oxidation issues. The booster features VENN's patented technology to water-solubilize Compound K in high concentrations and effectively deliver for brighter, firmer, and more even-looking skin.
£ 125.00Add to basket
3. Votary Super Seed Nutrient Cream
Give delicate skin a little TLC with the Votary Super Seed Nutrient Cream. Fragrance-free and packed with hyaluronic acid and 21 super seed oils, it soothes, nourishes and protects even the most irritated of skin and leaves a matte finish. As well as calming sensitive spots, the cream locks in moisture, priming your skin for the day ahead. If you suffer from sensitive skin, this nourishing face cream is one for you.
£ 70.00Add to basket
4. Sarah Chapman Skin Insurance Invisible SPF 50
Skin Insurance Invisible from Sarah Chapman is the ultimate featherweight formula for ultra-high skin protection every single day. With SPF 50, DNA-repair technology, and a completely invisible feel, this cashmere moisturiser is a must-have in your beauty bag. It blends perfectly below make-up and works with all skin types, leaving a natural, healthy glow for your complexion.
£ 69.00Read more
5. Codex Brightening Eye Cream 
Kiss undereye circles and tired looking eyes goodbye with this expert Codex Antü Brightening Eye Cream. Its lightweight formula helps to smooth, firm, and brighten up the skin, reducing the appearance of dark circles under the eyes. Clinically proven to work, make this eye cream a part of your daily routine for long-lasting results.
£ 46.00Add to basket
Oskia Liquid Mask
Replenish your skin overnight with Oskia's dreamy Liquid Mask. With 10% lactic acid, it plumps and firms your skin while exfoliating to illuminate and even out skin tone and texture. Other key nourishing ingredients include hyaluronic acid to hydrate and soften, Niacinamide to reduce the appearance of blemishes and pores and Black Carrot extract to combat free radical damage. Let the beauty sleep commence!
£ 68.00Add to basket